by Tim Farley.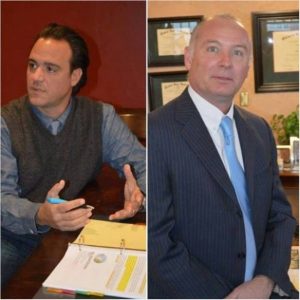 DISTRICT ATTORNEY, ATTORNEY GENERAL COULD BE CALLED UPON TO PROBE STATE AGENCY
OKLAHOMA CITY – Actions taken by the Oklahoma Medical Licensure and Supervision Board against a Tulsa spine surgeon warrants a criminal investigation, an Oklahoma City defense lawyer said.
Without speaking about specific individuals, attorney David Slane said board members and agency staff members likely violated a number of laws that could result in felony and misdemeanor charges.
"I've been a criminal defense lawyer for more than 20 years and I can tell you this situation certainly needs to be investigated," he said.
Last week, Slane appeared on the talk radio show "Mitchell in the Morning" and expressed his thoughts that "this goes beyond incompetence or haphazard due process violations."
Spine surgeon Steven Anagnost was targeted for prosecution by the medical board, competing Tulsa surgeons and a group of medical malpractice attorneys after he refused to join the Oklahoma Spine and Brain Institute (OSBI) in 2005. From that time until 2008, Anagnost contends his competitors began compiling a list of complaints against him, many of which resulted in lawsuits filed from 2008 to 2010. In most of the cases, the complaints were initiated by the surgeons at OSBI, Anagnost claims.
Anagnost, a pioneer in Oklahoma with Minimally Invasive Spine Surgery (MISS), was performing about 40 percent of all spine surgeries in Tulsa, leaving competitors jealous and outraged.
An independent review of Anagnost's case left Slane with the impression that as many as four felonies may have been committed, including conspiracy, offering fraudulent or forged evidence, perjury and violation of the Oklahoma Computer Crimes Act. In addition, Slane believes a handful of misdemeanors, including possible violations of the Open Meetings Act and the Open Records Act, should be investigated.
"When looking at a crime, it's much different than an administrative process," he said. "The intention becomes extremely relevant. My impression, after reviewing this, is serious felonies were committed. This is something the attorney general or the district attorney should look into."
Other options include a grand jury investigation or a probe by a legislative oversight committee, Slane said.
Part of the alleged conspiracy by the "Unholy Trinity," – the competing physicians, medical board and the medical malpractice attorneys – occurred in January 2010 when the agency's staff members held a secret meeting at the Southern Hills Marriott in Tulsa to interview competing spine surgeons about patients who had previously been under Anagnost's care, according to documents obtained by Red Dirt Report.
Internal emails and memos from the state medical board illustrate the agency's desire to revoke Anagnost's medical license. However, that never happened and he was never disciplined in connection with any of the complaints filed against him.
An emergency hearing in the case against Anagnost was held June 18, 2010, but was dismissed the same day because of the volumes of evidence he presented to the medical board. That decision by Assistant Attorney General and medical board legal counsel Libby Scott left the complaining doctors, particularly those at OSBI, irate and outraged.
A June 20, 2010 memo obtained by Red Dirt Report shows the board's medical advisor, Dr. Eric Frische, tried to explain to board members why the state dismissed the complaint against Anagnost.
"I think we felt that we wanted to catch him off guard but clearly he wasn't," Frische wrote. "In future cases like this one, we might consider an interview with multiple interviewers and do so on the record and probably in our Board office where we can record the interview. That should be adequate to catch doctors off guard."
The alleged conspiracy continued into the following year when medical board investigator Gayla Janke wrote an email to Dr. Frank Tomacek, one of Anagnost's competing surgeons, urging him to round up as many cases as possible against Anagnost. The email was dated Oct. 28, 2011.
"It is important to Dr. Anagnost's case that all 25 of the patients whose case is with the Sneed Lang Firm (and any other patient you know of that has been injured) fill out the attached Complaint Form, and send it back to the Medical Board. The more Complaints we have the better," she wrote.
About 18 months after the emergency hearing, it became clear that the medical board was still pursuing a case against Anagnost. An internal email obtained by Red Dirt Report shows Janke corresponded with medical board Executive Director Lyle Kelsey, Scott and Frische detailing a telephone call she had with Tulsa medical malpractice attorney Jennifer DeAngelis.
"She (DeAngelis) blasted me hard about the Board's lack of action against Dr. Anagnost. She said things like 'The doctors that are helping us and helping you are ready to do anything we need to do to help the Board with this case. We will get the patients to talk to you,'" Janke wrote.
About an hour later on Dec. 8, 2011, Kelsey wrote in an email to Scott, "Why don't the doctors get the hospital(s) to do something against his privileges if they are so aghast."
In a separate email to Scott on the same day, Kelsey wrote, "She (DeAngelis) needs to be castigated for trying to second guess our process and work on getting him (Anagnost) kicked off the Tulsa hospital staffs."
A conspiracy conviction carries a maximum prison sentence of 10 years and fines up to $5,000.
The Sneed Lang firm and two other attorneys – Gary Brooks and Randy Sullivan – filed the majority of lawsuits against Anagnost. Brooks was a medical board member at the time he filed two lawsuits against Anagnost in 2010. Sullivan, a medical board prosecutor in the Anagnost case, also filed two cases against the surgeon that same year.
Slane contends the volume of allegations made against the medical board and its staff should be looked into as soon as possible.
"We need to let trained investigators get to the bottom of this," he said. "If there's no evidence of wrongdoing, then close the case. But if there's evidence of criminal behavior, then somebody should be charged. I don't care if it's a doctor, lawyer or state employees. They should be charged."
Oklahoma County District Attorney David Prater did not return a phone call for comment. Will Gattenby, press secretary for Oklahoma Attorney General Scott Pruitt, offered no comment on the case or if Pruitt would consider opening an investigation into the allegations.
Pruitt hasn't always been quiet in connection with the state medical board. In 2003, then-state Senator Pruitt was critical of Brooks' appointment to the board.
"The appointment of Gary Brooks or, for that matter, any trial lawyer who makes his living suing doctors, to the medical licensure board creates an outrageous, unacceptable conflict of interest," he said at the time.
Altering evidence
Slane referenced a separate allegation that Dan Graves, the medical board's special prosecutor, deliberately changed a CT scan exhibit that was presented during Anagnost's deposition on May 15, 2013. Anagnost said the scan was different from the exhibit given to him and his attorneys prior to the deposition.
"He took the CT scan evidence and altered it before the deposition," the surgeon said. "The numbers on the file don't match up. They're always in order, but they weren't on that scan. Usually, the images are always in order, but during the deposition they skipped numbers and he stopped the presentation right when the images would have exonerated me from the false allegations of placing a cervical plate and never screwing it into the patient's bone."
According to Anagnost, the altered images hide the screw tracts that were actually in the bone. Anagnost acknowledged the screws pulled out but that was due to the elderly patient's soft bone. When the surgeon objected to the CT scan in question, he was castigated by Graves, according to a deposition transcript.
"This exemplifies destruction of public records, destruction of evidence and filing a false or forged instrument," Anagnost said.
According to state law, presenting forged or fraudulently altered evidence in any trial or proceeding is considered a felony.
Perjury, computer crimes
Anagnost contends medical board Executive Director Lyle Kelsey lied to the Senate Health and Human Services Committee last year when he testified board members had no knowledge of the Anagnost investigation.
However, several emails demonstrate Brooks, then a board member, met with investigators in 2010 about medical records, deposition transcripts and other medical evidence. Brooks left the board in July 2011.
In the Senate hearing held Sept. 29, 2014, Kelsey told committee members "Mr. Brooks nor any board member or the hearing advisor had ever participated in the investigative process."
Anagnost alleges state computers were used in the agency's conspiracy to take away his medical license. The emails and memos obtained by Red Dirt Report show the correspondence was written on agency computers and was sent during regular business hours.
Violation of the Oklahoma Computer Crimes Act carries a 10 year prison term and fines ranging from $5,000 to $100,000.